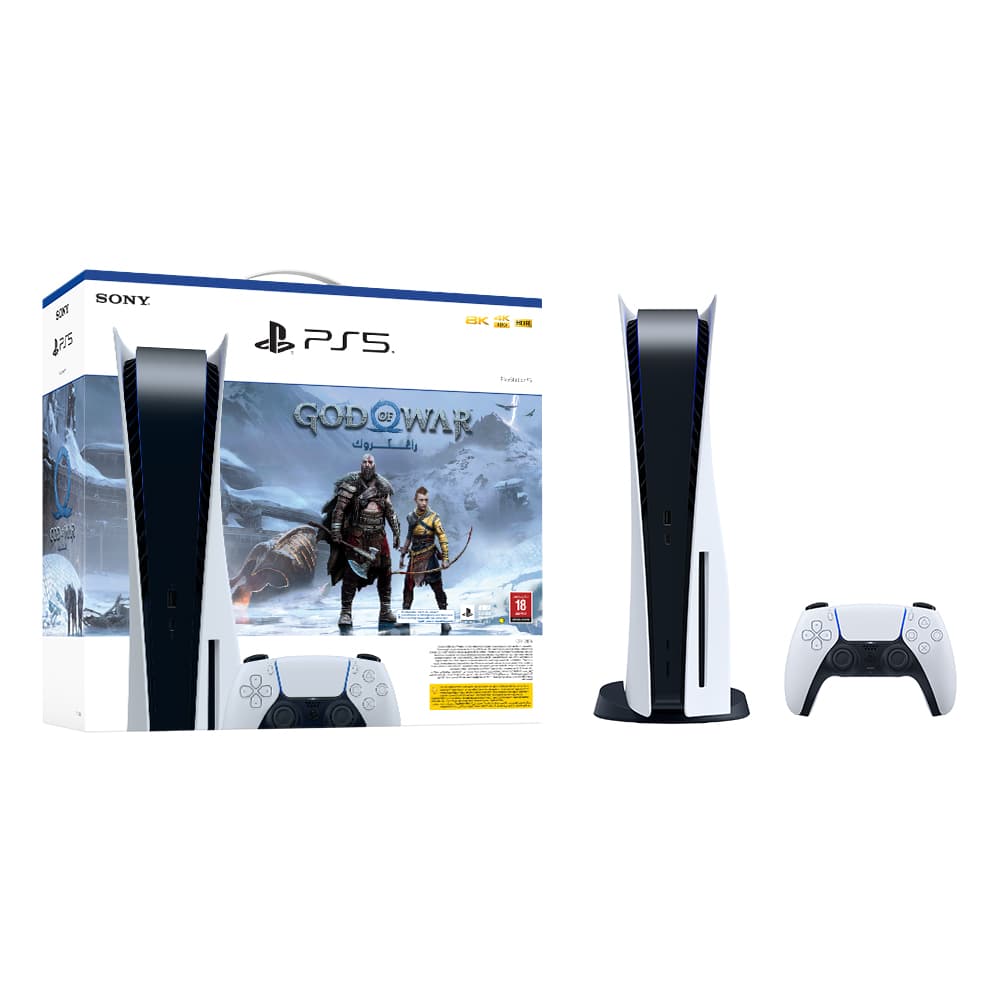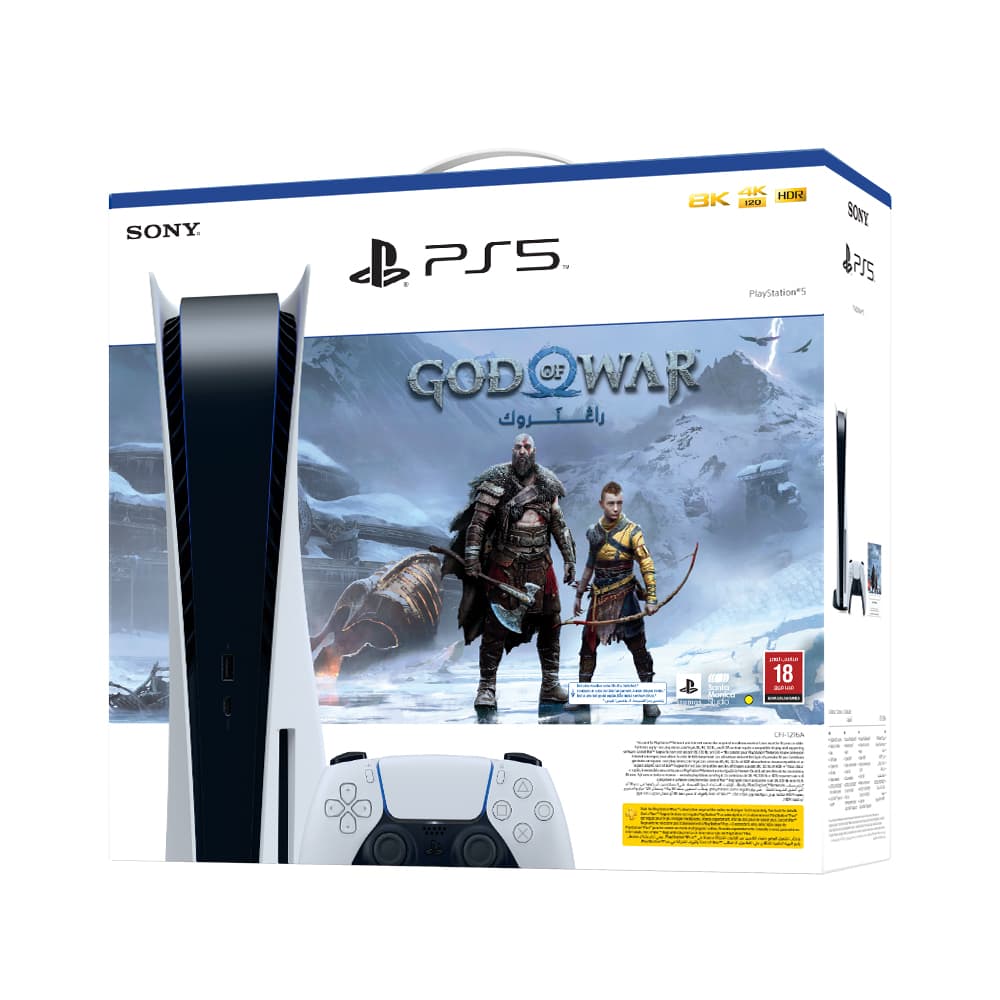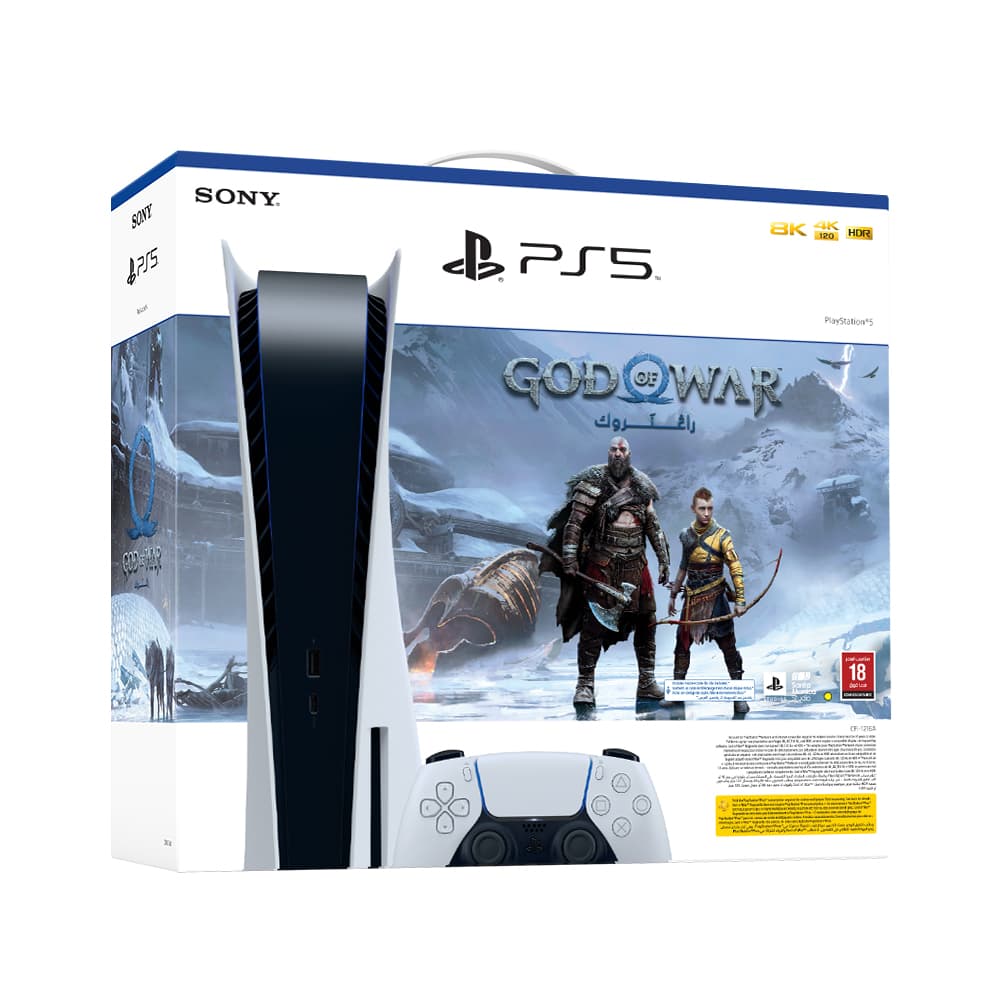 PlayStation 5 Blu-Ray Disc Bundle + God Of War Voucher Game | PS5
PlayStation 5 Blu-ray with God of War Ragnarok Game Voucher PS5
An Exciting bundle of PS5 with a God of War Ragnarok Game Voucher.
PLAYSTATION 5 DISC BUNDLE:
The ps5 console unleashes new gaming possibilities that you never anticipated
Experience lightning-fast loading with an ultra-high-speed SSD, deeper immersion with support for haptic feedback, adaptive triggers, and 3d audio, and an all-new generation of incredible PlayStation games
LIGHTNING SPEED:
harness the power of a custom CPU, GPU, and SSD with integrated i/o that rewrite the rules of what a PlayStation console can do
STUNNING GAMES:
marvel at incredible graphics and experience new ps5 features
BREATHTAKING IMMERSION:
discover a deeper gaming experience with support for haptic feedback, adaptive triggers, and 3d audio technology
RAY TRACING:
Immerse yourself in worlds with a new level of realism as rays of light are individually simulated, creating true-to-life shadows and reflections in supported ps5 games.
4K-TV GAMING:
Play your favorite ps5 games on your stunning 4k tv.
UP TO 120FPS WITH 120HZ OUTPUT:
Enjoy smooth and fluid high frame rate gameplay at up to 120fps for compatible games, with support for 120hz output on 4k displays.
HDR TECHNOLOGY:
With an hdr tv, supported ps5 games display an unbelievably vibrant and lifelike range of colors.
8K OUTPUT:
Ps5 consoles support 8k output, so you can play games on your 4320p resolution display.
God of War Ragnarok – PS5 Game:
Embark on a mythic journey for answers and allies as Kratos and Atreus prepare for Ragnarök.
From Santa Monica Studio comes the sequel to the critically acclaimed God of War (2018). Fimbulwinter is well underway. Kratos and Atreus must journey to each of the Nine Realms in search of answers as Asgardian forces prepare for a prophesied battle that will end the world. Along the way, they will explore stunning, mythical landscapes, and face fearsome enemies in the form of Norse gods and monsters. The threat of Ragnarök grows ever closer. Kratos and Atreus must choose between their own safety and the safety of the realms.
THE NORSE SAGA CONTINUES
A future, unwritten:
Atreus seeks knowledge to help him understand the prophecy of "Loki" and establish his role in Ragnarök. Kratos must decide whether he will be chained by the fear of repeating his mistakes or break free of his past to be the father Atreus needs.
Instruments of war
The Leviathan Axe, Blades of Chaos, and Guardian Shield return alongside a host of new abilities for both Kratos and Atreus. Kratos' deadly Spartan skills will be tested like never before as he battles gods and monsters across Nine Realms to protect his family.
Explore vast realms
Journey through dangerous and stunning landscapes while facing a wide variety of enemy creatures, monsters, and Norse gods as Kratos and Atreus search for answers.